The Music Of Old Settlers – An Example in Three Bands
The organizers of the 30th Anniversary of Old Settler's Music Festival have pulled out all the stops and are bringing what is quite possibly the most impressive musical line-up to date. And that's not an easy task for this festival that each year rides the beautiful musical line that contains traditional bluegrass that involves a common microphone that all gather around to harmonize, today's NEWgrass movement that includes jam bands and extensive light shows as well as non-traditional but amazing music.
For 2017, Old Settler's Music Festival returns to Driftwood, Texas on April 20-23. The 4 day camping and music experience will be housed at the Salt Lick Pavilion and Camp Ben McCullough. A perfect place.
With so many great bands playing over the 4 day festival, it might be a little daunting to decide who to go see. Well… here's INsite's list of three bands that you should be sure NOT to miss this year.. and each typify a genre that Old Settlers masterfully melds each year.
The Del McCoury Band
Courtesy delmccouryband.com
There are few players alive today who's very name personifies traditional bluegrass music. McCoury is at the forefront and Del is the leader. This year, attendees will be blessed with both a set from the DelMcCoury Band as well as The Travelling McCoury's. When either iteration of this family band gathers around the microphone to sing, it transcends time and brings a smile across the crowd.
Del has been playing for over 50 years was a member of Bill Monroe's Blue Grass Boys in the 60's, has recorded with Steve Earle AND has jammed onstage with Phish. That's a little something for everyone there. You'll be pleased as well.
The Travelin' McCoury's are both Del's band for the past 29 or so years as well as a masterful band in their own right. Two of Del's sons, Ronnie and Rob, bring the McCoury swagger and willingingness to stretch the line of traditional bluegrass for the sake of the song.
CATCH THEM:
The Travellin' McCourys – Bluebonnet Stage – Saturday 4:40 – 5:50
Del McCoury Band – Hill Country Stage – Saturday 7:10 – 8:25
Los Lobos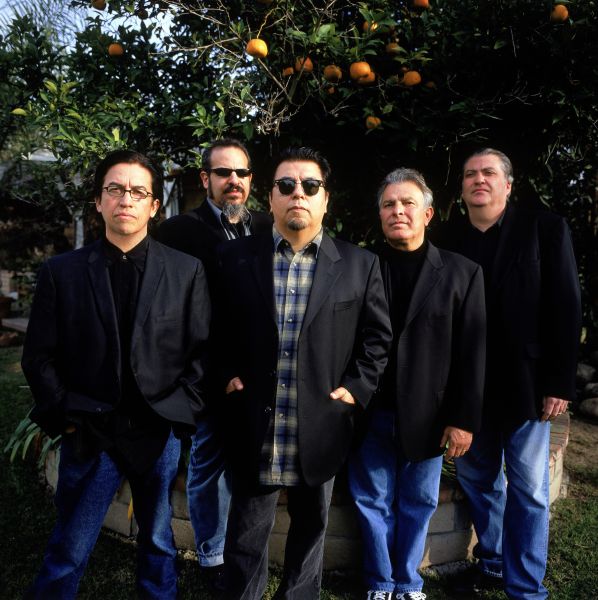 Courtesy Loslobos.org
When I heard Los Lobos was coming to Old Settler's, I just about jumped out of my seat. Los Lobos is my desert island band…. Meaning, if I were stranded on a desert island with only one album for the rest of my life… it'd be theirs – Just Another Band From East LA to be exact.
Their music transcends labels. It's equal parts rock, tejano, conjunto, funk, Americana and folk. They are their own genre, in my book.
Perhaps Los Lobos' Louie Perez said is better than I can describe it when he said

"We're a Mexican American band, and no word describes America like immigrant. Most of us are children of immigrants, so it's perhaps natural that the songs we create celebrate America in this way."
They paint a picture of the beauty of America with all of her cracks and scars with each stroke of a musical brush. Storytelling songs like "One Time One Night" go along with their well-known version of "La Bamba" their mystical sounds of "Kiko and the Lavender Moon." Plus their more recent work is forward moving and stellar. 44 years into their career, they still have some tricks up their sleeves, and you should be there to watch.
Hill Country Stage – Saturday 10:30 – Midnight
Shinyribs
What is there to say about Kevin Russell, the founder and mastermind behind Shinyribs? The gentleman makes people happy. He causes the least of us to jump up and shake what their mama gave them. He is an entertainer. Whether you catch the full stage show with lights, dancers and wardrobe changes on a Saturday night or you catch the annual

final set of OSMF at the campground on Sunday, you will be transformed.
Musically, Shinyribs is amazingly impressive. Lyrically Russell spins tales in a way that makes you look at going to the convenience store in a different light (See "Poor People Store"). Personally, the dude is a hoot.
Bluebonnet Stage – Saturday 11:00 – Midnight
Campground Stage – Sunday 4:30 – 5:30p