7 Things to do Anytime in Austin
(That doesn't involve food)
By Sean Claes
So, I've seen hundreds of "Things To Do In Austin" lists and they all seem to be concentrated around eating. Sure, we've got some amazing restaurants, cafes, food trailers and street vendors... but we've also got some amazing attractions that people can visit. Here's a list of seven of our choices of things to do in Austin that doesn't involve feeding your face.
1.
Find an awesome toy store
Terra Toys - Photo Credit Sean Claes
You've got some awesome options for local-only toy stores in Austin.
a.
Toy Joy
has been around since 1987.. and in 2013 they moved locations and landed in the heart of Downtown, on 403 w. 2nd Street. It's not only one of Austin's coolest places to shop, in December 2014 is was chosen as one of the top 10 toy stores in the WORLD (
link
).
b.
Terra Toys
is another amazing store. It's been open in Austin since 1979. It's located now at 2438 W. Anderson Lane. Last time I went there with the kiddos it was almost so much fun that I forgot it was a store and not a giant playground. Terra Toys has received many awards for being exactly what it is… one of the coolest toy stores around.
2.
Tour… then roll down the hill at the Capitol Building
Texas Capitol Building - Photo Credit Sean Claes
There's nothing like walking inside the Capitol Building and taking in the history. Checking out all of the past Governor paintings on the walls, taking a walk through the corridors and seeing where laws are made or denied. Also… there's nothing much cooler than having a little fun while there… standing in the center of the star under the dome on the ground floor… looking up and spinning. Heading outside to see and appreciate the hundred-year-old oaks… then rolling down the hill on the front lawn. Best part? It's all free!
http://www.tspb.state.tx.us/spb/capitol/texcap.htm
3.
Take a swim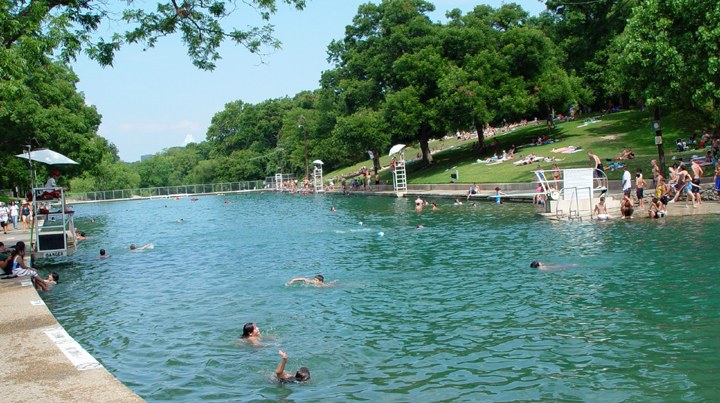 Barton Springs Pool - Photo Credit http://austintexas.gov/department/barton-springs-pool
Barton Springs Pool is a natural pool that is fed from an underground springs. It's no longer a hidden little gem within Zilker Park. It gets about 800,000 visitors a year.
Songs
have been written about it… New Year's Resolutions have begun there (Jumping into Barton Springs Pool on New Year's Day is a rite of passage for Austinites). But at the end of the day, it's just a really neat place that brings hippies and families and hipsters and couples together to swim in harmony.
Little known fact that came from me looking this up online. Actor
Robert Redford
learned to swim when he was 5 in Barton Springs Pool.
http://www.austintexas.gov/department/barton-springs-pool
One of my favorite places to head when I'm in Austin and don't want to spend a mint is Peter Pan Mini Golf. It is your old-school 18 hole putt-putt course. It actually opened its gates in 1946 and I'm not sure…but from the looks of it, there hasn't been much by way of modernization since then. But you know what? It's awesome just like that. I'm not sure if I'd want to go back if there wasn't the big ól slightly creepy Peter Pan kneeling in the front and the giant T-Rex on the course. I like it just the way it is… and you are likely to as well.
http://peterpanminigolf.com/
Ann and Roy Butler Hike-and-Bike Trail - Photo Credit:

http://www.austinparks.org/
The Ann and Roy Butler Hike-and-Bike Trail (aka Town Lake Trail) is an awesome 10 mile loop that is great for exercising or just walking around on. Since the 1970s, this urban dirt trail has wraps around Town Lake.. ahem.. I mean Lady Bird Lake. It spans from Pleasant Valley Road to MoPac.
If you're not a runner/jogger/biker it's all good.. there's some great spots to just lounge around and see the Austin skyline.. maybe hang out on Auditorium Shores and play some Frisbee or pay homage to Stevie Ray Vaughan by visiting his statue. And if you have been to the trail before, but not for a while, you might be excited to know that the Boardwalk Trail, closing the southeastern gap of the trail, opened in June 2014… so it's a solid loop now.
6.
The Stars at Night… Are Big and Bright
(I'll wait while you finish that line)… Did you know that the Wild Basin Wilderness Preserve (805 N. Capital of Texas Highway) is the location of a monthly Star Gazing and Moonlight Tour (
link
) hosted by the Austin Astronomical Society? How cool is that? The Wilderness Preserve is actually home to 227 acres of Hill Country and has trails that are open from dawn until dusk.
Note: Second Saturdays they offer a 2 hour public guided tour beginning at 10a and frequently have what they call "Hike and Lecture Series" events. In order to find out about these, there's a meetup.com group set up (
Lean more here
).
Tesoros Trading Company - Photo Credit http://www.firstthursday.info/
Chances are if you've lived in Austin for more than a second, you've been down to South Congress. It's been said it's where the "Weird" comes from in the "Keep Austin Weird" slogan. (Yes.. I know that
Red Wassenich
, a librarian from ACC actually said "Keep Austin Weird" first… and
Outhouse Designs
trademarked the phrase and the
Austin Independent Business Alliance
has adopted the phrase… I was speaking figuratively… thank you very much)
ANYHOW… If you've got a day to spend on South Congress, you should totally do that… try on some great costumes at
Lucy In Disguise
. Check out the amazing handmade boots at Heritage
Boot
. Pick up a funky
Loteria
inspired art piece at
Tesoros Trading Company
, or great art from
Yard Dog
. You never know what cool wearable art piece will lurk behind
The Turquoise Door
. You can always pick up a Batman
Labbit
or a new
Dunny
… or a Star Wars koozie… or maybe some rainbow tape.. or pretty much any other odd and wonderful toy you can think of at
Monkey See Monkey Do
.

The point is… you can find the weird and wonderful on South Congress. And, if you're lucky there will be plenty of people watching and maybe a few musicians busking.
So there you have it…. seven options that won't actually break your bank when you're entertaining yourself, your family or a group in Austin, Texas. Hope you enjoyed.
Feel free and comment on some additional places I've not mentioned here. There are hundreds of great spots to visit. Go out and discover your Austin.